Privacy Policy & Cookies Policy
PRIVACY POLICY
I. PROTECTING YOUR PERSONAL DATA
This policy is for the protection of your personal data on the https://www.equancy.com site (named below "Equancy.com").
Protecting your personal data is an essential part of our relationship. This relationship is based on a principle of transparency aimed at respecting your privacy in accordance with the regulations in force in France and Europe, in particular under the amended "loi informatique et libertés" of the 6th of January 1978 and the General Data Protection Regulation (EU Regulation 2016/679) or "GDPR" (hereafter the "Regulation").
This policy informs you about the categories of personal data we process, how we use it, the categories of recipients to whom we disclose it, and the rights you have.
This policy describes how Equancy.com collects, uses, shares, and secures your personal information to provide you with its services.
This policy also outlines the opportunities available to you for the use, consultation, and correction of this data.
This policy applies to all users of services, computer and mobile websites, features or other Equancy.com services.
In the context of the use of its services and the services available on its website and its mobile site, Equancy.com, as a processing manager, is likely to collect and process personal data about you.
Equancy.com is owned by the EQUANCY company (named below the "Company") - a partnership with a capital of 40,060 euros, headquartered located at 47 rue de Chaillot - 75116 PARIS registered in the "Registre du Commerce et des Sociétés de PARIS" under the number 433 754 066.
Scope
This privacy policy applies to any information we collect or use on the website and mobile site that is owned or controlled by the Company or its affiliates. Affiliates are those that control the Company, those controlled by the Company or controlled by the same entity.
What data do we collect?
We collect information about you as long as you use the website and Equancy.com services...
In accordance with the principle of minimisation, we collect only the data necessary for the purposes for which it is processed.
We only use your personal data based on a legitimate interest.
The different categories of data collected as part of your use of our services are:
Identification data (including your civility, name, first name, date of birth, age, resume including information on your training, previous professional experiences and contact information attached, results of any filtering process, hobbies, transcript if you provide one, written evaluations recorded during the selection interviews, evaluation reports of tests passed as part of the recruitment process, your activity and profile on social networks etc. )
Contact data (including postal or electronic address)
Usage data (including web pages visited, files viewed on our site such as HTLM pages, graphics, etc.)
Login data (including your computer's IP address, your internet service provider, logs, and usage logs)
Business data
Location data
Administrative data
Data on the operating system, time stamping and/or click flow analysis data
Content data
Other information may come from other sources including:
Users or others providing information in connection with claims or disputes
Insurance providers
Public or administrative sources
Marketing service providers
Equancy.com may associate the information collected from these sources with other information in its possession.
Your data is useful for us to provide our services, respond to your requests, operate, and improve the website, as well as to promote a positive user experience.
The resume you give us must not contain sensitive information about (i) your racial or ethnic origin; (ii) your political views; (iii) your philosophical or religious beliefs; (iv) your membership in a trade union or political party; (v) your mental or physical health, or details; (vi) your addictions or your sex life; (vii) your criminal history and the penalties or fines imposed; (viii) your history of misconduct or illegal conduct and penalties; or (ix) your social security number or national ID card. If you were to provide us with such information, it would mean that you consented to knowingly disseminating it without the Company being able to incur liability in this regard.
We use this data subject to your priorconsent, as described at the time we are collecting this consent.
If your resume includes the contact information for a business reference, you must ensure that the person is informed and has given you their written consent.
To ensure that these rules are properly enforced, the Company has appointed a data protection delegate. This data relates to filling out a form, downloading the resume.
The Company also implements appropriate internal procedures to educate its employees and ensure compliance with these rules within its organization.
II. HOW DO WE ENSURE THE SECURITY AND PROTECTION OF YOUR PERSONAL DATA?
The Company implements appropriate technical and organizational measures to ensure a level of security tailored to the risk inherent in its processing operations, meet regulatory requirements and protect the rights and data of the individuals involved from the moment processing operations are designed.
In particular, the Company has taken the following steps:
Appointment of a DPO on May 25, 2018
Awareness of personal data protection among teams
Writing of this Privacy Policy
Introducing a security flaw management procedure to effectively apprehend potential personal data breaches
In addition, the Company contractually imposes the same level of personal data protection on its subcontractors (providers, suppliers, etc.).
III. WHAT ARE THE USE OF DATA SUSCEPTIBLES OF BEING COLLECTED BY EQUANCY.COM?
1. Ways to collect your data
As part of our relationships, you are likely to share your personal data with us through various means, including on our website and mobile site during your internet browsing, requests for information, by filling out various collection forms, when you post comments on our social networking pages, when you make any contact with Equancy.com or when you give us your personal data in any other way.
2. Treatment and legal basis
Your data is primarily used for access to our platform, form filling, resume transmission, business information, satisfaction surveys, statistical studies, recruitment, processing of your applications and/or claims.
In addition to cases where your consent has been collected, it is necessary to process your data for the various purposes mentioned below:
To manage the user account
To identify or authenticate the User
To send you communications about the service used and security updates
To communicate with the User (technical and commercial assistance)
To manage pre-litigation, litigation
To ensure the provision and operation of services
To host the data
To analyze, improve and optimize Equancy.com services
To comply with a legal obligation (including ensuring the correct identity of the legal person and, carrying out the compulsory formalities with the French public authorities)
For the purposes of legitimate interests pursued by Equancy.com (including combating fraud and acts of malice on computer systems of Equancy.com, enriching and valuing the customer/prospect base, carrying out statistical studies, improving the offer, improving customer service, etc.)
Your data is used:
To allow you to benefit from all the services available on the Equancy.com website
To allow you to apply for job offers
To allow us to evaluate your application for the position for which you applied as part of our recruitment
To allow us to contact you about this and/or other vacancies
To allow us to process your application
To allow you to browse our websites and mobile
To best match our information, notifications, offers and other forms of services in line with your interests
IV. HOW LONG IS YOUR DATA STORED?
Equancy.com undertakes to keep your personal data for a period of no longer than necessary for the purposes for which it is processed. Personal data used for commercial exploration can be retained for up to three (3) years from the end of the commercial relationship. If you do not log in to your account or interact with our services for more than three years, your account will expire automatically and be deleted. In addition, Equancy.com retains your personal data in accordance with the shelf lifes of the current Regulations.
Our policy is to retain the personal data of candidates who are not selected but whose profile may have an interest in other possible recruitments for a period of no more than 24 months.
These retention times depend on the nature of the data and the processing purposes implemented by Equancy.com and take into account, among other things, the applicable legal provisions requiring a specific shelf life for certain categories of data, possible prescribing periods, and CNIL's recommendations for certain categories of data processing (e.g., Deliberation No. 2016-264 of July 21, 2016 amending a simplified standard for automated processing of personal data relating to the management of customers and prospects (NS-048), Article L.232-7 of the Internal Security Code relating to the transmission of passenger data to the French administration, retention of cookies for 13 months according to recommendation of the CNIL...).
V. WHO IS LIKELY TO ACCESS YOUR PERSONAL DATA?
1. Recipients of your data
The data collected on Equancy.com website and its mobile website, are likely to be shared with the Company's authorized staff, any entities in the group to which the Company belongs, its ancillary service providers, or to administrations with whom Equancy.com is in contact. The use of these providers or administrations is necessary for the purpose of the data processing as provided for herein.
2. Data transfers outside the European Union
Due to the global scope of our business, we may pass on your data outside the country in which you are located.
Some of the recipients mentioned above are likely to be established outside the European Union and to have access to all or part of the personal information collected by Equancy.com. If these recipients are required to process your data outside the European Union, the transfers will be carried out in accordance with the applicable regulations.
VI. HOW DO YOU EXERCISE YOUR RIGHTS?
What are your rights?
In accordance with applicable data protection regulations, you may, at any time, request access to personal data about you, correct it, delete it, and limit and oppose the processing and portability of your personal data under the conditions set out by the Regulation.
You also have the right to amend or withdraw, at any time, the consents you have granted us for the processing of your personal data.
In addition, your personal data may be deleted after your death in accordance with the Regulation. You have the right to instruct Equancy.com to share this data with a third party that you have previously designated.
In addition, anyone who is underage when collecting their personal data can obtain it as soon as possible.
It is also important that the information you provide to us is accurate and up-to-date and that you inform us, without delay, of any significant changes concerning you.
How to exercise your rights
These rights are exercised, at any time, by mail to:
EQUANCY
Data Protection Delegate
47 Chaillot Street
75116 PARIS
Email: dpo@equancy.com
In this context, please accompany your request for the necessary elements for your identification (name, first name, e-mail) as well as any other information necessary to confirm your identity (ID).
For specific services, these rights may be exercised directly online (managing your requests for information, etc.).
In case of violation of the applicable regulations regarding the protection of personal data and the GDPR, you also have a right of appeal to the National Commission of Information Technology and Freedoms at:
CNIL - 3 place de Fontenoy - TSA 80715 - 75334 Paris cedex 07
As part of sponsorship programs, you have the option to exercise your rights, withdraw your consent, or make any questions or complaints, by contacting Equancy.com at the address mentioned above at:
EQUANCY
Data Protection Delegate
47 Chaillot Street
75116 PARIS
Email: dpo@equancy.com
Equancy.com will work together when necessary to ensure the exercise of your rights or provide you with the answers to all your questions or complaints.
When you are in contact with our Company, your call may be registered for the purpose of improving service quality, preventing disputes and malicious calls. If you don't want to be registered, report it directly to the person you have online.
You also have the right to object to the processing of your personal data for commercial exploration purposes. When required by the Regulations, your data will only be used electronically for prospecting after your explicit consent has been obtained.
In addition, if you no longer wish to receive Equancy.com e-mail, you can click on the opt-out link at the bottom of each communication.
VII. ONLINE CONVIVIALITY OF EQUANCY.COM SERVICES
Equancy.com strives to continuously improve its electronic services to facilitate access to its customers, potential customers, Users, and visitors. For example, Equancy.com website provides you with permanent 24-hour access.
You have the option to link Equancy.com with most social networks and especially LinkedIn. By agreeing to share certain personal data, listed on the link and authorisation screen specific to each social network, you will be able to benefit from optimized browsing on the Equancy.com site.
VIII. COOKIES
When you visit our website Equancy.com, cookies are deposited on your computer, mobile or tablet.
Our site is designed to be particularly attentive to the needs and expectations of users. This is one of the reasons we use cookies.
At any time, you are given the option to adjust your cookie settings. For more information on the use of cookies by Equancy.com, please see our cookie policy.
IX. COMPUTER SECURITY / TRANSACTION SECURITY
Ensuring the security and confidentiality of the personal data you entrust to us is a priority for Equancy.com. We thereby implement all relevant technical and organizational measures, in view of the nature, scope and context of the personal data you provide to us and the risks presented by their processing, to preserve the security of your personal data and, in particular, to prevent any destruction, loss, alteration, disclosure, intrusion or unauthorized access to this data, accidentally or illegally.
The security and confidentiality of personal data is based on the best practices of everyone. We strongly advise you not to share with third parties or to publish on social networks any documents issued by Equancy.com containing your personal data (your personal details, etc.).
Finally, Equancy.com has put in place a security breach management procedure to effectively apprehend any violations of personal data, notify the relevant authority of such breaches without delay and notify you when such breaches are likely to harm your personal data.
X. PERSONAL DATA ABOUT MINORS
Equancy.com does not collect or process personal data relating to children under the age of 16 without the prior consent of parents or parenting. If you learn that a minor under the age of 16 has provided us with their personal data, please let us know immediately.
If personal data about children is collected via the website, parents or holders of the exercise of parental authority can object by contacting us at:
EQUANCY
Data Protection Delegate
47 Chaillot Street
75116 PARIS
Email: dpo@equancy.com
Furthermore, as stated above, the minor child at the time of the collection of his personal data can obtain the erasure of it as soon as possible.
XI. LINKS TO OTHER SITES
On several pages of the website of Equancy.com you are offered the opportunity to click to access other websites of other companies. We advise you to read the policy of these sites relating to the processing and protection of personal data, as the conditions on these sites may differ from the conditions of Equancy.com. Equancy.com would not be held responsible for the handling of personal data by these other websites, nor for the information or content of their products and services. This privacy statement applies only to data collected by us via navigation and operations relating to our services.
XII. CONTACT
For any additional questions about this policy or how Equancy.com process your personal data, please contact our Data Protection Representative at: dpo@equancy.com
CHANGES
Equancy.com may have to modify this Personal Data Protection Policy to meet the requirements of the applicable regulations. Any changes will take effect immediately as soon as it is released. If significant changes were to be made, Equancy.com will make them clear on the website or by other means.
This version was developed on 17/10/2020
COOKIES POLICY
COOKIE POLICY
EQUANCY clearly informs you about the use of cookies when you visit the www.equancy.fr website and reminds you of your rights.
This cookie policy will be updated to take account of legal, regulatory and operational developments; it is therefore subject to change.
→ What is a cookie?
A cookie is a small file that is stored by a server on a user's device (such as a computer or phone) and that is linked to a web domain (generally to all the pages of the same website). This file is sent back automatically during subsequent interactions with the same domain.
Cookies have a dual function, enabling website publishers to:
- Improve the performance of their site,
- Offer users a better browsing experience.
Except in the case of certain cookies strictly necessary for the consultation of the www.equancy.fr website, you are free to consent or not to the deposit of cookies on your terminal by EQUANCY. This option is offered to you at the first consultation of the EQUANCY website by selecting your choices concerning the deposit of cookies within the "cookies banner" form automatically displayed on the EQUANCY website.
You can also use your internet browser to delete cookies automatically or manually, or to specify that certain cookies cannot be placed on your terminal. You can configure your browser to receive only certain cookies, and to receive notification whenever a cookie is placed on your terminal.
According to the CNIL, consent to cookies should have a lifespan of 6 months (good practice) Deliberation no. 2020-092 of 17 September 2020. We undertake to renew your consent on a regular basis for the deposit of cookies subject to your express consent (analytical cookies, third-party cookies, etc.).
Subject to obtaining your consent, these cookies may however be stored within EQUANCY's IT system for longer periods, which will in all circumstances remain in compliance with the legal and regulatory provisions in force.
Acceptance of the deposit of cookies is carried out by a selection of your choice in a "cookies banner" type form that appears automatically when consulting the www.equancy.fr website.
→ What types of cookies do we use?
EQUANCY uses the following cookies:
a. Internal cookies
Internal cookies are deposited by EQUANCY directly during the consultation carried out of the Website by the Internet User.
→ Essential cookies
Essential cookies allow you to browse our sites and use our services and features. Without these necessary cookies and other similar technologies, the sites will not work as well as we would like and we may not be able to provide certain features that are essential to your customer journey.
Functional cookies are likely to be deposited by EQUANCY or its Subcontractors. These cookies do not require the user's consent, and consequently cannot be deactivated on the EQUANCY Website.
→ Analytical cookies or audience measurement cookies
Analytical cookies help us understand how visitors interact with our sites, services and mobile application.
Subject to your consent, EQUANCY or its Subcontractors are likely to deposit Audience Measurement Cookies in order to establish statistics on the number of visits and the use of the performance of its website. Analytical cookies are strictly limited to measuring the audience of the www.equancy.fr website and for the exclusive account of the publisher of the EQUANCY website.
We use these cookies in various ways, in particular
- Site functionality and services: to remember how you prefer to use our site so that you do not have to reconfigure your settings each time you log in to your account.
- Analysis and improvement of our services: so that our site and our services are best adapted to your needs. Cookies help us to understand how and why our visitors land on our site.They give us an overview of any improvements or enhancements we need to make to our site and services.- Web beacons (also known as "web beacons"): may be used in connection with certain services to, among other things, track user actions, measure the success of our marketing campaigns and compile statistics on service usage and response rates.
- Third-party analysis: these cookies enable us to count the number of visits to our site, identify traffic sources or understand the content that our visitors enjoy (for example, which pages or categories are visited the most). We also use these cookies to check the performance of our sites.The lifespan of the audience measurement cookies and trackers used is 13 months (the period recommended by the CNIL with regard to analytical cookies exempt from consent, the maximum retention period being 25 months).
→ Marketing or advertising cookies
Advertising cookies may only be placed if you give your express consent using the "Cookies" form or banner on the www.equancy.fr website.
We may place cookies for advertising purposes on behalf of ourselves or our partners.In this way we can offer you targeted advertising and measure your engagement with advertisements.Information is collected and shared with third parties to provide audience targeting and optimisation solutions for advertisers and publishers.To this end, we collect your specific consent for :
- The placing of advertising cookies on your terminal;- The use of information collected by us or by authorised partners;- The transfer to our partners of the data collected and, where applicable, previously "anonymised" or covered by the necessary security and confidentiality measures.
b. Third-party cookies
Third-party cookies are cookies deposited on domains other than that of the main site, generally managed by third parties consulted by the site visited and not by the Internet user him/herself.
Authorised third parties are part of EQUANCY's network of regular and contractual Partners.
→ Social Network or Partner Cookies
Social network or partner cookies may only be deposited if you expressly consent to them using the "Cookies" form appearing as a banner on the www.equancy.fr website.
→ Partner cookies
Our Partners may place Cookies in order to offer you advertising tailored to your centres of interest on our Service. These cookies also make it possible to adjust the advertising messages made available to you (for example, limiting the number of times you see a specific advertisement) and to measure the effectiveness of advertising campaigns.→ Social network cookiesWhen browsing our Site, you have the option of clicking on the "social networks" buttons in order to consult our LinkedIn profile or our Twitter account. These third-party applications are likely to deposit cookies in order to offer you targeted advertising. If you are connected to the social network while browsing our Site, the sharing buttons allow you to link the content you consult to your user account ("Professional Space").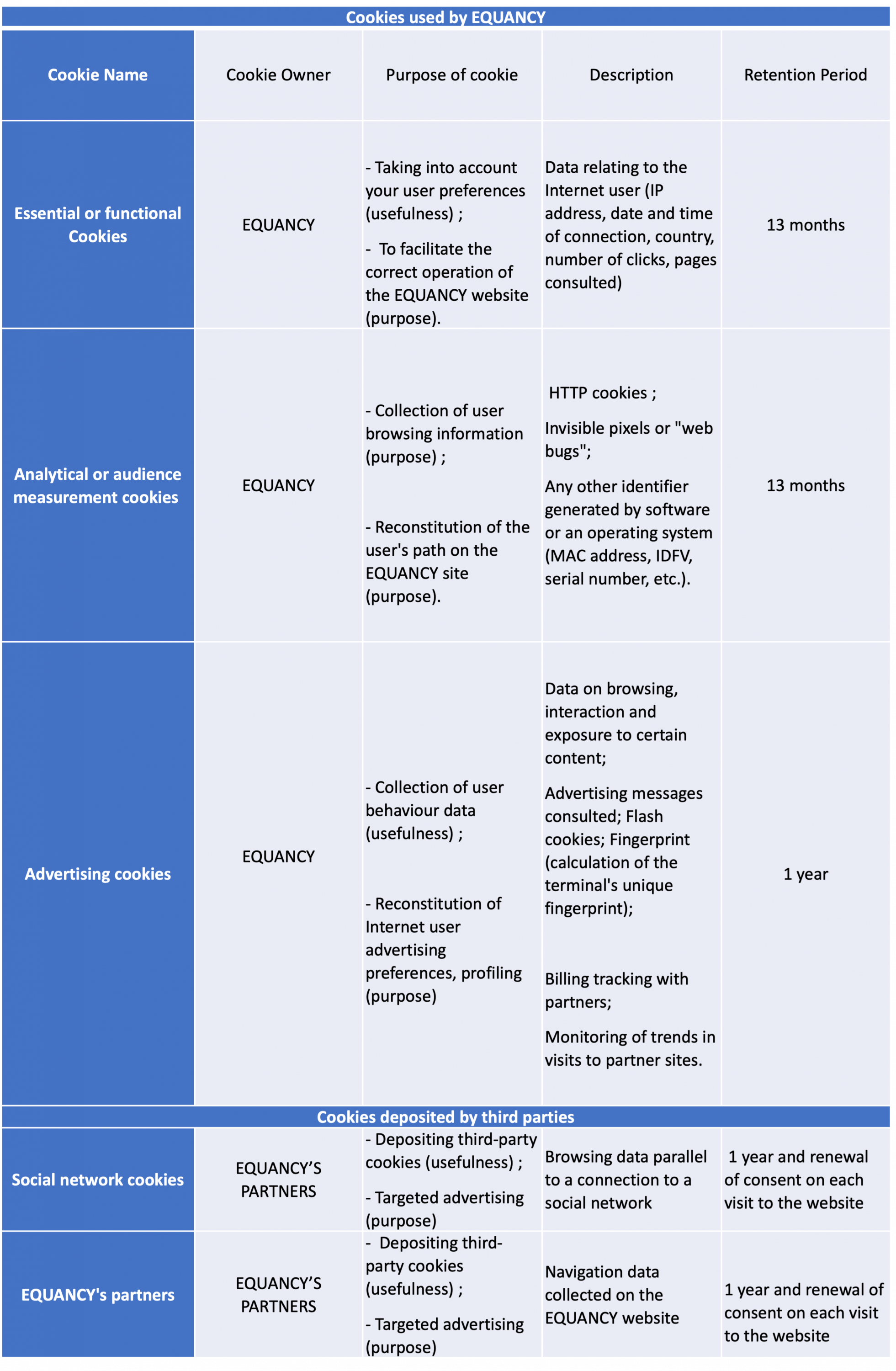 As mentioned in the Privacy Policy, you have the following rights:
- Right of access to your personal data;
- the right to rectify your personal data
- Right to delete your personal data;
- Right to object to the processing of your data;
- Right to request the restriction of the processing of data concerning you;
- Right to request the portability of your data;
- The right to decide what happens to your data after your death;
- the right to revoke your consent, where this is the basis for processing your data.
You can make a request to exercise your rights by : - Writing an e-mail to the address: dpo@equancy.com
- Writing a letter to the following postal address
EQUANCY
Data Protection Officer
4 Rue Jules Lefebvre - 75009 PARIS
You also have the right to lodge a complaint with the Commission Nationale de l'Informatique et des Libertés (CNIL).
In the case of processing for which partners or third parties are responsible, they will indicate how to exercise your rights in the conditions accessible via the above-mentioned links. We may also forward to them your requests to exercise your rights with regard to the data concerning you.
Last update [27/07/2023]